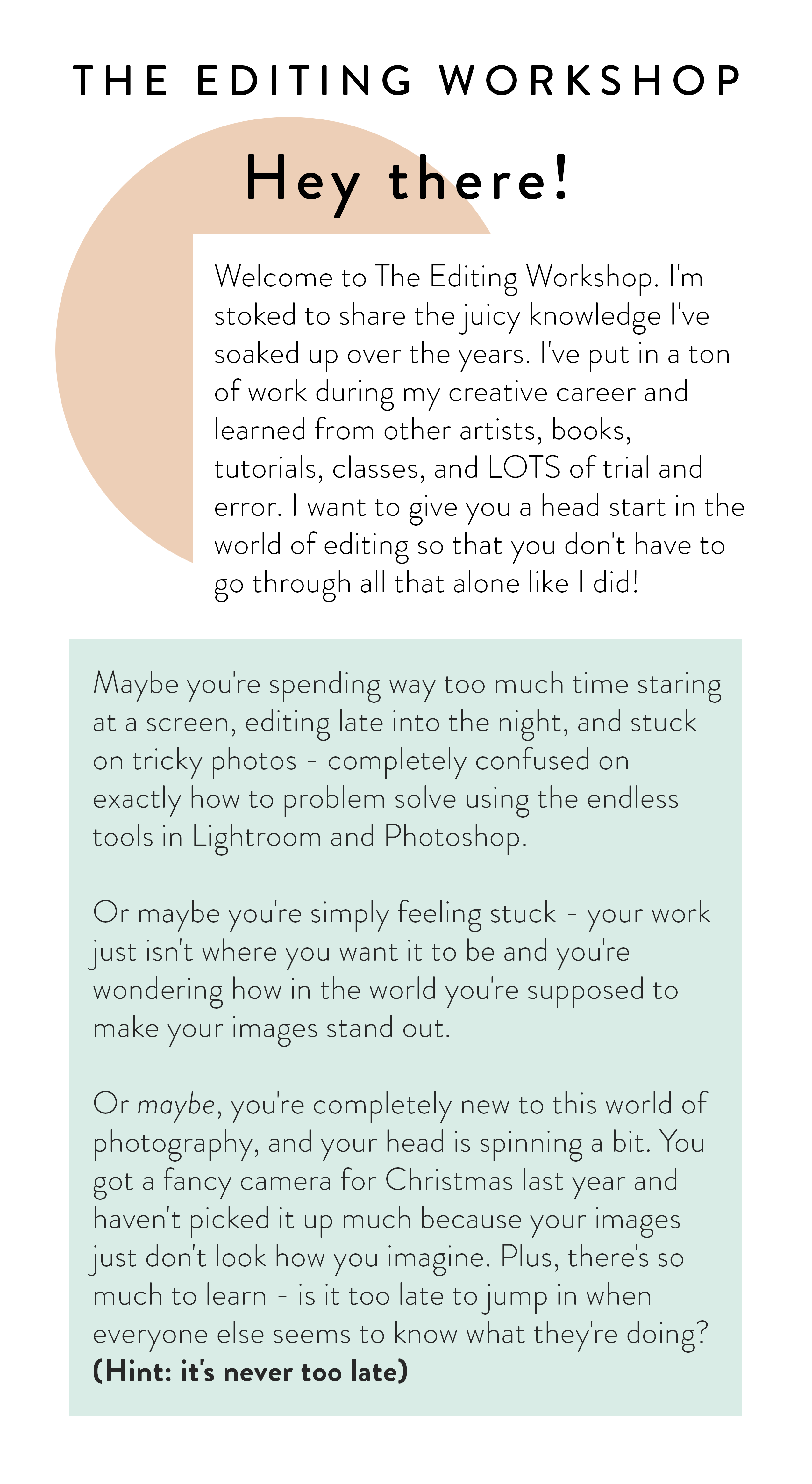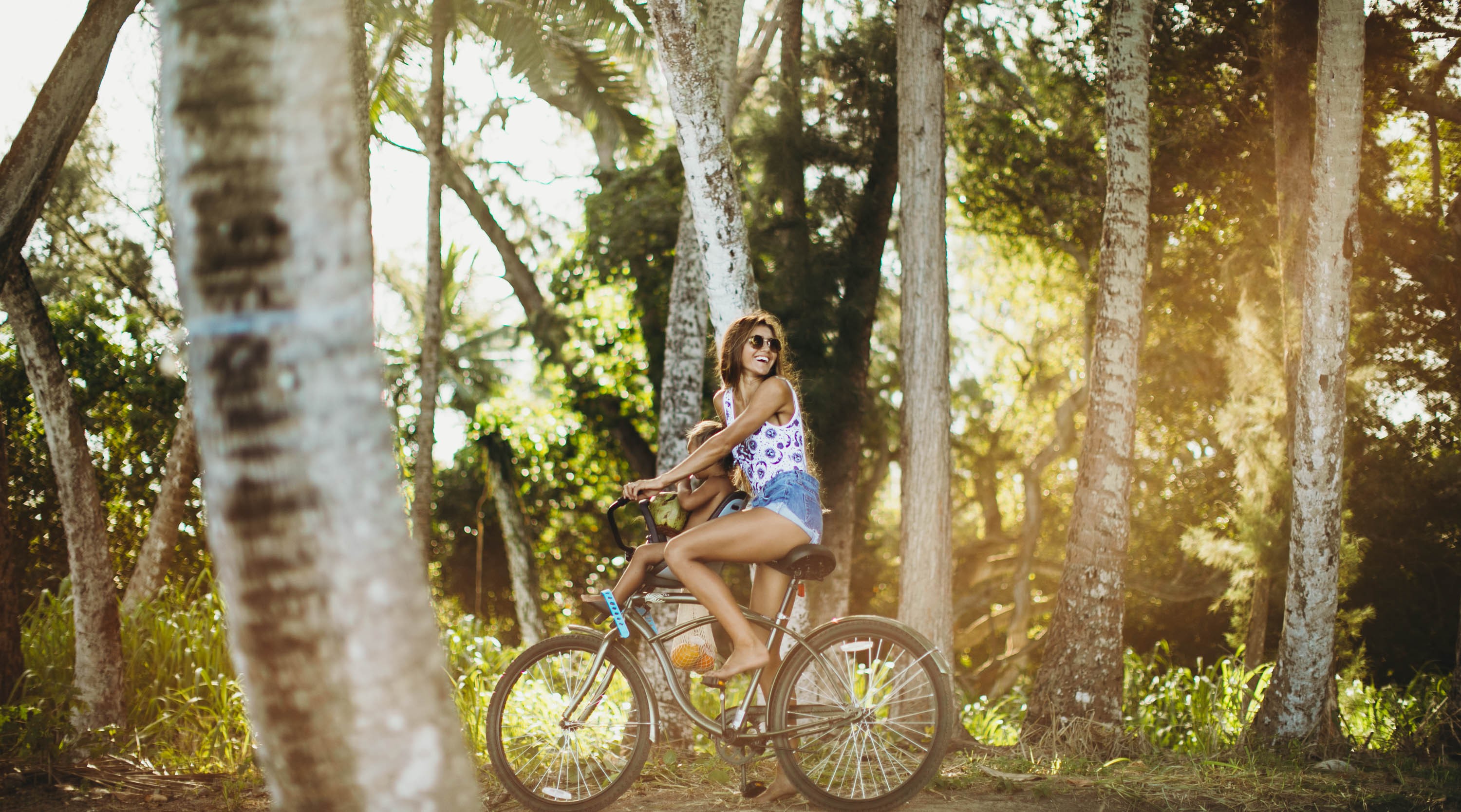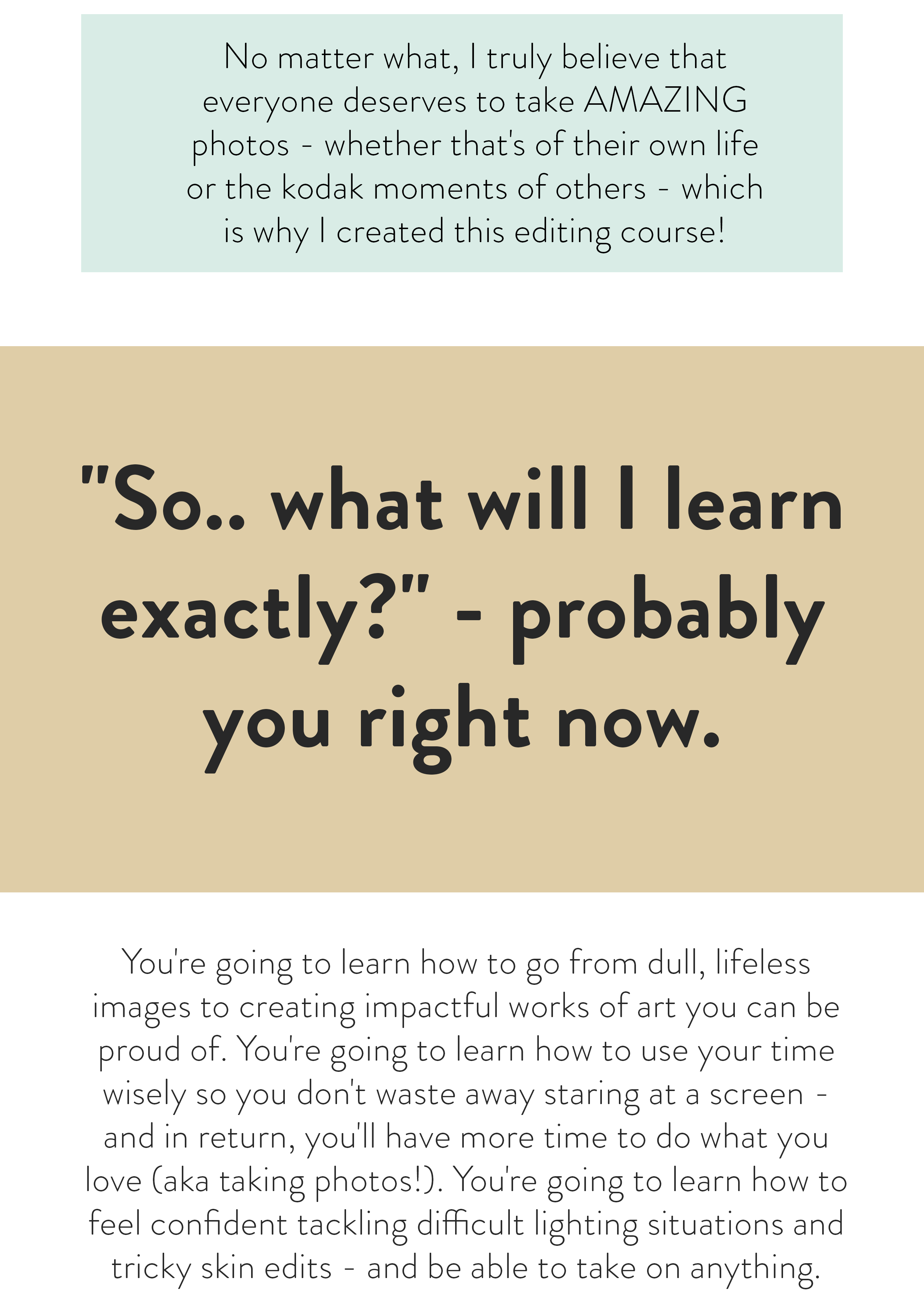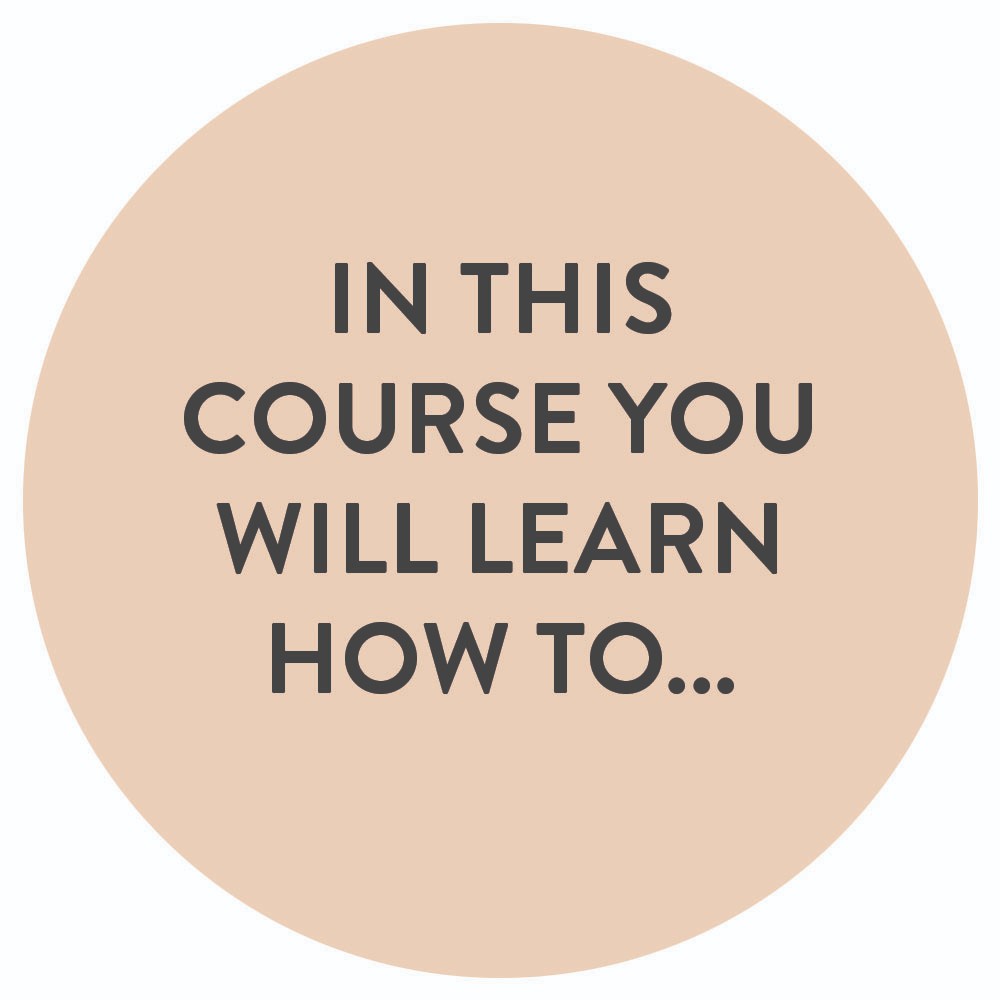 Spend less time in front of a screen
Learn techniques + camera settings that will save time later

Streamline your culling (image selection) process

Utilize presets + plugins

Edit in large batches

Learn how to problem solve your way through tricky photos
Stay motivated + organized
Avoid burning out on the same job

Deadlines + calendars

The technique I use to conquer procrastination

How to edit a shoot you're not in love with
Use dozens of incredible and underrated tools in Lightroom + Photoshop
Adding new tools to your belt + using it to problem solve

Understanding each tool and how to best utilize it

Learning the balancing act

Master natural skin tones of all shades

Brighten up faces + remove unwanted shadows

Create smooth + flawless skin without sacrificing texture

Get a photo to look exactly how you envisioned
Give your images a little extra somethin'
Finalize your images in Photoshop

Remove background clutter + make your images clean

Develop your own personal touch

Eyes + teeth + skin: how to make your clients look amazing

Create a consistent + cohesive style

Final delivery: impress your clients
My own editing choices + how and why I make them
Being bold + stand out from the crowd

Timeless > Trendy

Creating a preset from scratch

Experimentation

How to edit unconventional lighting situations (underwater, harsh lighting, blown out)

Creating a mood + executing a vision
At the end of the course you can watch me edit an entire photo session - from start to finish - using the tools + techniques taught throughout the class! Think of it as a one-on-one editing sesh with yours truly. I've also created a Q+A section which I'm super stoked on because I love directly answering your toughest editing questions!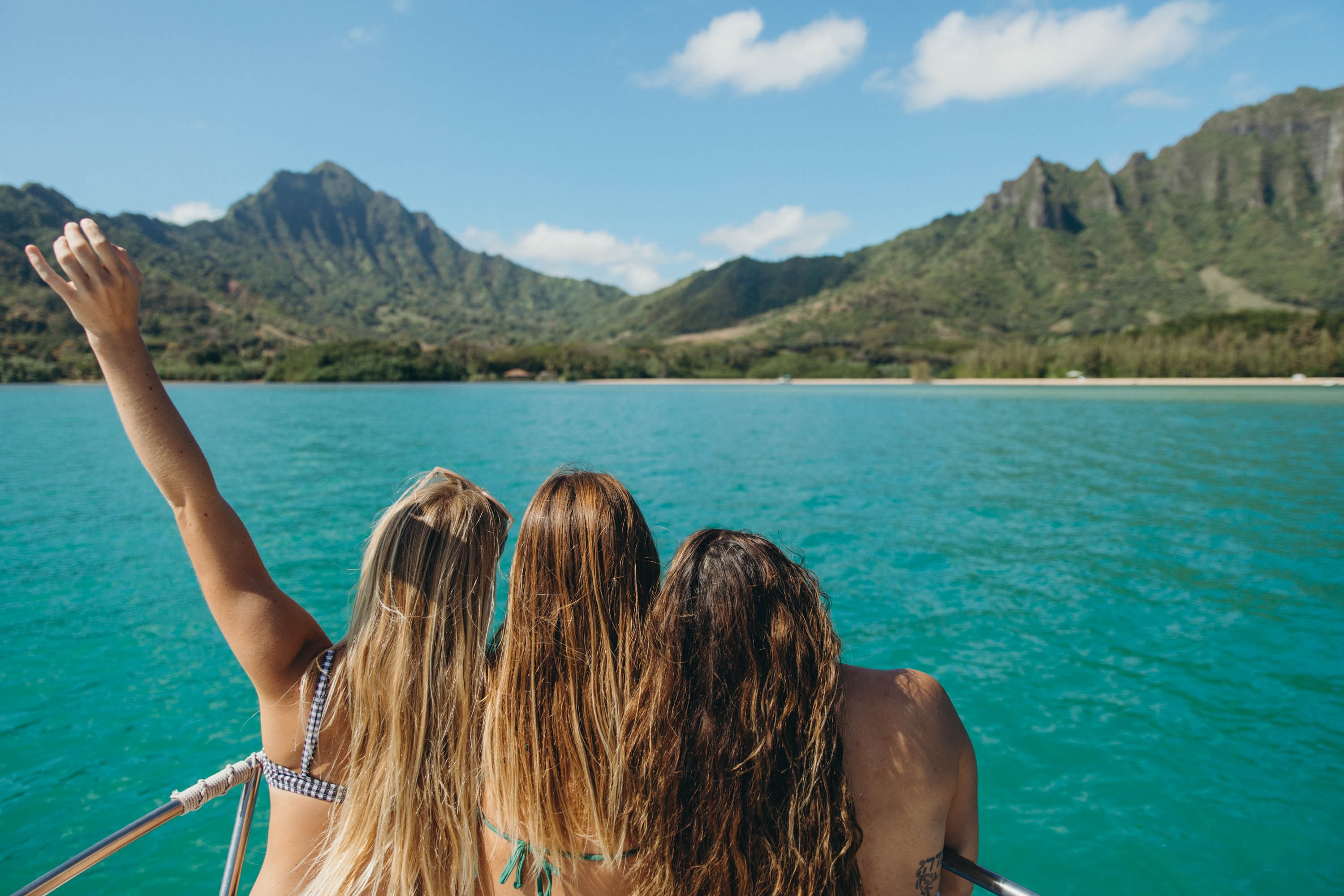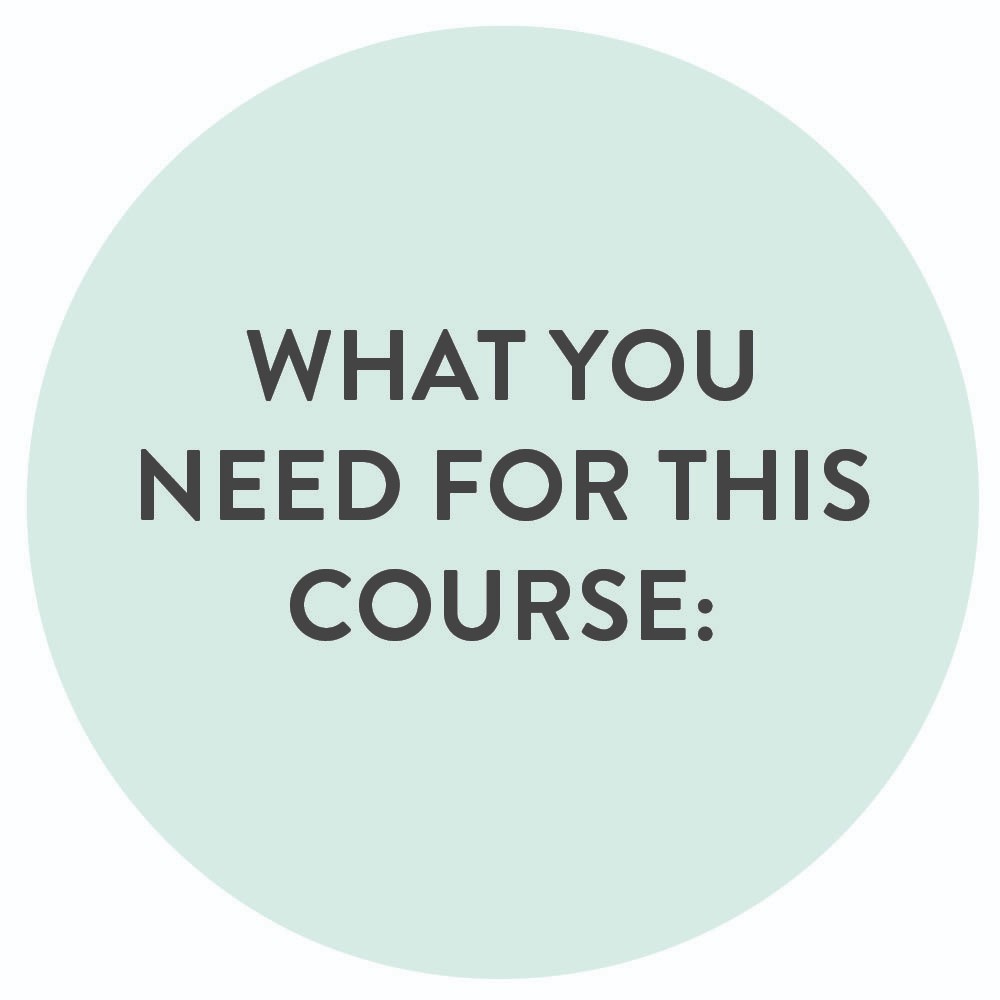 Adobe Lightroom Classic + Adobe Photoshop (Can be purchased for just $10 a month through Creative Cloud!) on a functioning computer (these are not mobile programs but computer software!)

A camera that can shoot in RAW capabilities (aka a DSLR, Go Pro, or Mirrorless camera)

The very basic knowledge of how a camera works (I.E. shutter speed and aperture)

An eagerness to learn + desire to take the plunge and invest in your editing skills!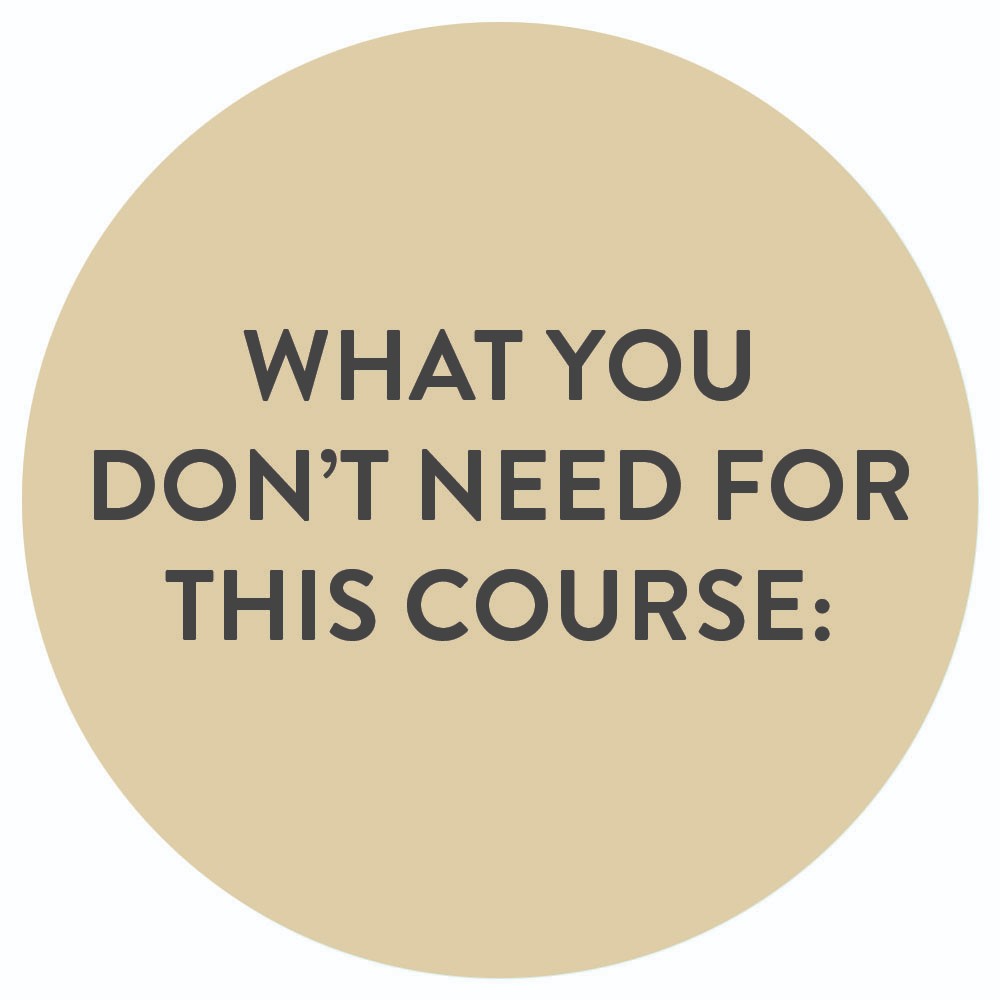 Any understanding of how Lightroom or Photoshop works - I'll teach you all the basics!

To be an experienced photographer - or even a professional photographer at all! This course is even for people who just have a fancy camera, love taking photos, and want to learn how to edit their own memories!

To own any presets. Although I do edit using presets throughout the course (and they are included!), all the techniques + principles still apply no matter what you're editing with. I also have a section all about creating your own presets from scratch!
If you're a brand new photographer, this self paced course will arm you with the tools you need to feel confident putting your work out there, as well as be a place you can return to as you want to learn more. If you're a little more experienced but still looking to take your editing game up a notch (or several!) then this course is for you, too - I'll be your mentor as your photography stretches and grows.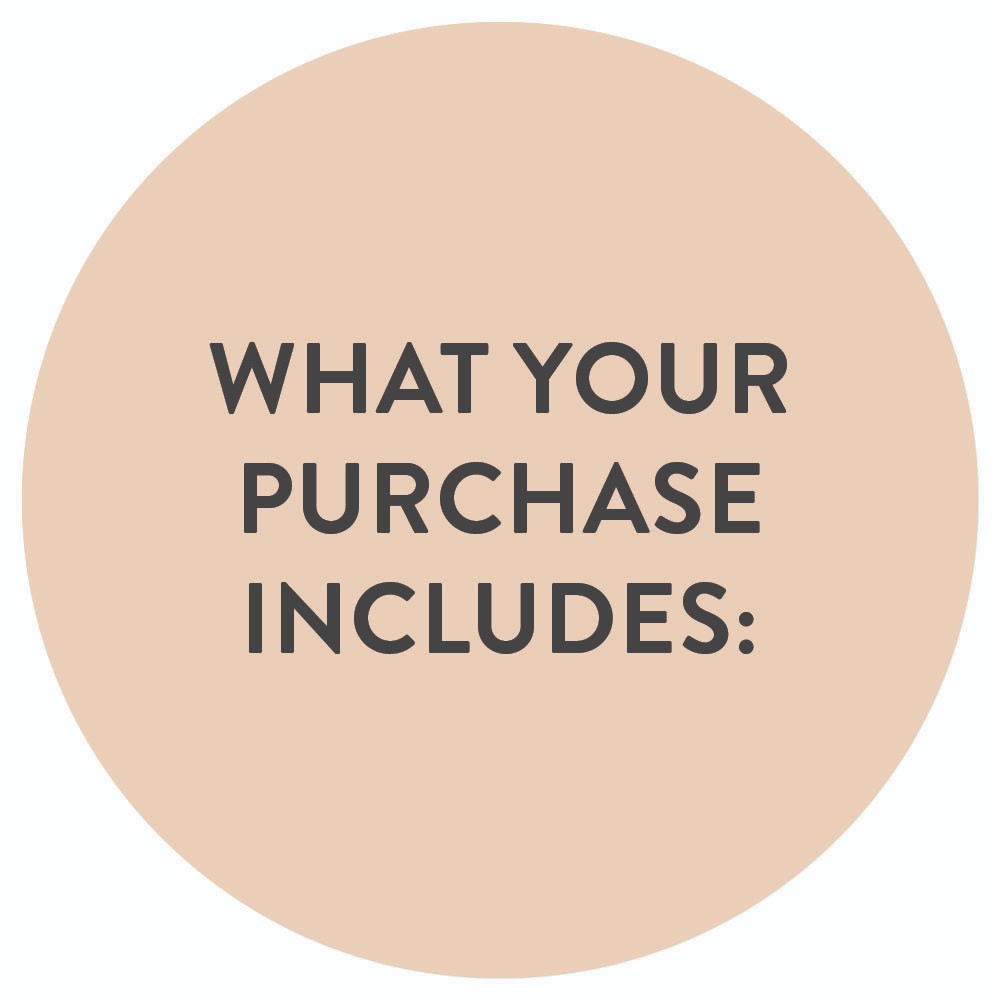 All exclusive access to over 5 hours of comprehensive video tutorials which cover everything from preproduction (what you can do to save time while editing), how to cull through images quickly, all the tools under the develop module in Lightroom (plus underrated tools you probably aren't using!), tips + tricks in Adobe Photoshop, advanced skin retouching, editing various lighting situations and tricky pics, and everything in between!

Both verbal + physical instruction made simple + easy to understand - even for beginners!

Downloadable PDF documents for quick and easy reference

Mobile access through the Teachable app

Participation on our Q+A page where I personally answer questions, help you tackle your own tricky photos, share + update tutorials, and personally edit user submitted images on a biannual basis!

Presets that are used throughout the editing course as well as the preset packs I have sold in the past such as The Wanderlust Collection and The Gold Collection!

Mentorship + support while you learn and grow as a photographer!

IM HERE FOR YOU!